Canada's FIRST Internet Newspaper
Where You Can Vacation & Be Home The Same Day

Local News
June 19, 2019
IN this study based on numbers taken at the end of last year we see Surrey has a 35% rate of not owned occupied conominium / apartments while at the end of last year White Rock made the list with a 21% rate.
The Gloves Are Off In Surrey
Surrrey Councillor LINDA LOCKE Surrey Mayor DOUG MCCALLUM
Just weeks after Surrey councillor STEVEN PETTIGREW moved away from the Surrey Safe Coalition over what he deemed as rampant development and tree canopy loss, now fellow councillor LINDA LOCKE appears to be moving away from the DOUG MCCALLUM led political party.
LOCKE this week crossed swords with Mayor MCCALLUM over the move to a private police force replacing the RCMP in Surrey.
MCCALLUM released the following press release yesterday;
June 18, 2019
Has Your Child Got RAPTOR Fever?
"Pursue Your Passion!" We are excited to launch our new location in White Rock! We will begin by running Summer Camps in July & August. In September, we will have Fall Club Teams, DBL & our Fall Training Academy! See our website to register for our first camps in South Surrey!
(CLICK HERE FOR DATES AND REGISTRATION)
This Week Brooke Goes Whale Watching With Captain Andy
BOOKE GODIN from FlinnWest Solutions Inc.
Surrey RCMP piloting new Online Crime Reporting tool
Today, the Surrey RCMP is launching a new online crime reporting tool to assist residents in reporting select non-emergency crimes. This is part of a pilot project for the BC RCMP's new Online Crime Reporting tool that includes detachments in Kelowna, Richmond, Ridge Meadows, and Surrey.
Online Crime Reporting provides an alternate way for citizens to report less serious crimes at www.surreyrcmp.ca/reportand through the Surrey RCMP mobile app. 
Citizens with a valid email address can report less serious crimes that occurred in Surrey where there is no suspect or witness and follow up by a police officer is not required. Specifically, residents will be able to report the following crimes online:
· Damage/mischief to property under $5,000
· Damage/mischief to a vehicle under $5,000
· Hit and run to an unoccupied vehicle or property
· Theft of bicycle under $5,000
· Theft under $5,000
· Theft from vehicle under $5,000
· Lost property
In addition to providing a more convenient way for residents to make a report, this new tool will also allow call takers and frontline personnel to focus on higher priority calls, which will improve overall safety and response times in the city.
"Crime reports from the public are an essential part of determining how our policing resources are deployed in the city," says Superintendent Ed Boettcher, Surrey RCMP Operations Officer. "This additional reporting tool will enhance our service delivery to residents of Surrey by making it more convenient to report less serious crimes, while allowing police to focus on emergency calls for service."
To make a report using the Online Crime Reporting tool visit www.surreyrcmp.ca/report.
June 17, 2019
Local business Hazelmere Orgnic Farms on 184th street suffered a devastating loss as a fire destroyed its barn and operations early Sunday morning. The fire is believed to have been started by an electrical issue around 4:20am Sunday.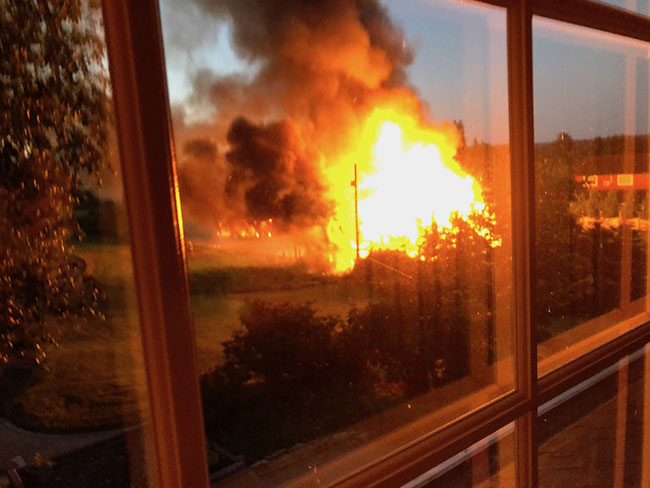 Photos story courtesy Kelly Breaks
June 16, 2019

History made on the Semmiahmoo First Nations land. 
A legal cannabis and medical dispensary were officially opened yesterday below the Washington Avenue Grill in Semiahmoo Park on Marine Drive.
The new store is a partnership with Indigenous Bloom and the Semiahmoo band. Indigenous Bloom now has 6 stores open on first nations land in British Columbia. All three levels of government were represented at the opening with MP Gordie Hogg, MLA Tracy Redies and White Rock mayor Darryl Walker all in attendance. 
It is more than just a pot shop. Visitors are welcome.
SE-MI-AH-MU Limited Partnership and Indigenous Bloom Corp 
 Announce a Partnership for Medicinal Hemp and Cannabis Dispensary
Semiahmoo First Nation (June 13, 2019) – The Semiahmoo First Nation (the "Semiahmoo") has approved its economic development business, SE-MI-AH-MU Limited Partnership to enter into a partnership with Indigenous Bloom Corp. to own and operate a medicinal hemp and cannabis dispensary on the Semiahmoo's Lands.  Semiahmoo's leadership has approved entering into this agreement based on inherent right to self-determination and to benefit economically from an industry that is now legal in Canada.
The Indigenous Bloom dispensary will employ Semiahmoo members, and residents from neighboring communities. The Grand opening of Semiahmoo's Indigenous Bloom Medicinal Hemp and Cannabis Dispensary will be held on Saturday, June 15, 2019 @ 3 p.m. - Unit 7, 15782 Marine Drive, Surrey, BC. All are welcome to attend this event that will bring benefits to our community.
 "The Medicinal Hemp and Cannabis industry represents a tremendous economic opportunity for all First Nations communities, and it's important that we, the SE-MI-AH-MA, assert our rights to participate in, and benefit from, all opportunity," explains Harley Chappell, Chief of the Semiahmoo. "By working together with Indigenous Bloom Corp., SE-MI-AH-MU Limited Partnership is creating new jobs and unlocking new revenue sources that will support social programs and housing urgently needed by members of our Nation."
Semiahmoo has developed its own Cannabis Law based on their historic rights, which governs the production and distribution of Hemp and Cannabis on Semiahmoo Lands. This law meets, and in some cases, exceeds the health and safety standards established by the Government of Canada and the province of British Columbia. 
Semiahmoo wishes to express its intention to work closely with other levels of government to align its Medicinal Hemp and Cannabis project with Federal and Provincial processes when the governments are ready to address Aboriginal rights that have not been addressed in the current legislation.
Lane closures on Alex Fraser Bridge this weekend
Drivers are advised that two lanes will be closed on the Alex Fraser Bridge this weekend and next to complete joint repair work on the south approach.
The closures are scheduled from 8 p.m. on Friday June 21 to June 24 24, weather permitting. Two lanes will remain open in each direction.
Travelers are asked to expect delays, watch for changing traffic patterns and follow signs and traffic control personnel. For up-to-date traffic information, follow @DriveBC on Twitter or visit: www.DriveBC.ca
Local world renowned artist ROBERT DAVIDSON Profiled
Robert Davidson
Haida artist ROBERT DAVIDSON has recently been profiled in Montecristo Magazine. DAVIDSON'S work is on display worldwide including on the arm of Prime Minister Trudeau. From his studio on the Semioahmoo First Nations land DAVIDSON had filled the void of the late artist BILL REID.
Davidson received the Order of Canada in 1996, and has been awarded honorary degrees from the Southern Methodist University in Dallas, Texas, Emily Carr University of Art + Design, Simon Fraser University, and the University of Victoria. Through his prolific body of work, it is fair to say that Davidson has been an instrumental voice in reaffirming Haida art in the 21st century.
June 13, 2019
Yesterday was a spring scorcher across B.C.
Sixteen record highs in the province for June 12 were noted by Environment Canada on Wednesday night.
"New daily high temperature records were set today thanks to a very strong ridge of high pressure," Environment Canada noted in a weather summary.
White Rock was one of the communities that broke the existing high temperature record for June 12 - 30.9 C (29.4 C in 1932)
June 12, 2019
Bill's Back!
Former White Rock councillor and former owner of the East Beach bar The Sandpiper returns to East Beach.
Monday evening White Rock council approved a primary liquor license for the operation of a bar to be run by BILL LAWRENCE.
The venue will feature live music, dancing, karaoke and pub food. The new East Beach pub is expected to open it's doors in July. 
Many residents who live in close proximity to the new pub voiced their concerns, but council and staff assured there will be no wiggle room on the operation of the pub. If there are complaints the liquor branch in Victoria will be called in to quell any problems.
Pretty In Pink?
The owners of the embroiled property located at 1310 Johnston Road in uptown White Rock have given the old building a bright brand new look. You may remember this property was caught in limbo when the new White Rock council called for an official review of the city's Official Community Plan. The owners are proceeding with a court challenge to force the city to allow the construction of a 13 storey tower.
During an unofficial survey of walkers along the sidewalk yesterday afternoon it is obvious there is no middle ground on the new colour. It seemed to be split right down the middle of people loving it thinking it brightened up the neighbourhood to people thinking it looked totally out of place.
The last two tenants currently still occupying rental space in the building LEELA THAI and Nourish, formerly Bikram White Rock has been located at 1326 since 2007 and both businesses will be moving once their new locations in White Rock are completed. NOURISH will be relocating 1560 George St, hopefully in September.. 
UPDATE
Just Kidding?
Was the shocking pink paint just a fun thing for the owners to do? Not sure but by yesterday (Thursday) the building had a new coat of brown paint restored to the empty structure on White rock's main thoroughfare.
Spirit In The Sky
With a forecasted good run of sunny weather this week the sky over White Rock yesterday afternoon took on an eerie look.
Have you ever seen clouds like the ones in this picture?
Night Owl
The return of SHARI ULRICH Saturday night in White Rock. First show sold out. Tickets available for the 9 p.m. concert.
Naked Truth
Don Pitcairn
Saturday shopping took on a whole new meaning @ Indigenous Bloom.
Chesney's Chestnuts
 I started a new job as a security guard last night.
Before my boss left he told me I had to make sure I watched the office all night.
I am on season 2 already but I don't know what it has to do with security.
Thought for the Day
Community Calendar

I hope you can join us for South Surrey's annual Solstice Stroll in Spirit Garden South Surrey Saturday June 22, 8pm to dusk. 
This is a beautiful evening to stroll through the candlelit garden, and if you find a special spot in the garden; light your own candle for a special person/loved one. Candles will be provided. The garden is located just north of 28th Ave on 140th St, parking right in front.
(click here for more community events)
Tomorrow In THE SUN
Yell It Like It Is
It's Only News If You Read It Today