News 
July 07, 2020
The City of White Rock Awards contract to resurface tennis courts at Centennial Park.
This work is scheduled to commence August 17, 2020 and will take approximately 3 weeks (weather dependent).
All 5 tennis courts will be US Open Tennis colours. The two north combination tennis/pickleball courts will be white lines for tennis and light blue lines for pickleball (as per the attached photograph of the combination pickleball courts recently done at Port Alberni). Please spread the word that the COURTS WILL BE CLOSED starting August 17th (for approximately 3 weeks).
July 06, 2020
PUBLIC INFORMATION MEETING
July 8, 2020, 5:30 PM - 7:00 PM @ City of White Rock
A Public Information Meeting will be hosted by the CITY OF WHITE ROCK using Microsoft Teams on Wednesday July 8, 2020, from 5:30pm to 7:00pm. The purpose of the meeting is to introduce the rezoning of 15081 Marine Drive (currently the Little India restaurant) and 14945 Marine Drive (currently Cilantro Indian Cuisine) to a new "West Beach Business Area Commercial / Residential Small Lot Zone" (CR-3A) To participate in the meeting, first sign up for "Microsoft Teams" at https://www.microsoft.com/en-ca/microsoft-365/microsoft-teams/group-chat-software. Once you have installed the program please email gnewman@whiterockcity.ca by Tuesday July 7, 2020 (quote "CR-3A Public Information Meeting" in the subject bar) to receive an invitation to the digital PIM. The meeting format will be two duplicate sessions, at 5:30pm and around 6:15pm.
FINANCE & AUDIT
A MEETING of the FINANCE & AUDIT COMMITTEE will be held in the CITY HALL COUNCIL CHAMBERS located at 15322 Buena Vista Avenue, White Rock, BC, on THURSDAY, JULY 9, 2020 at 5:00 p.m.
GOVERNANCE & LEGISLATION
A MEETING of the GOVERNANCE AND LEGISLATION COMMITTEE will be held in the CITY HALL COUNCIL CHAMBERS located at 15322 Buena Vista Avenue, White Rock, BC, on THURSDAY, JULY 9, 2020 at 6:30 p.m.
White Rock RCMP Street Checks
Between January 1, 2018 and June 20, 2020 there were 469 street checks in White Rock, an average of 15 checks per month. However, in the first half of 2020 there was an average of 5 street checks per month. This decrease is likely due to changes in the provincial policing standard on street checks that concisely defined them, leading to some checks becoming general occurrence files (i.e. traffic stops where the officer also discovered criminal intelligence, checks where an individual was issued a provincial violation ticket, etc).
A random sample of street checks in the first part of 2020 provided the following reasons for the street check:
Person looking into a business window at 3am
Person riding bike with no helmet at 2am
Known property offender in parking lot at 2am
Person talking to themselves in parking lot at 4pm
Person parked in front of business at 4:20am who changed their behaviour when police drove past
Teen siting by themselves at 4am
Two people making noise in a business parking lot at 12am
Person wandering with backpack in business alleyway at 3am
Check on two people sleeping in business alcove at 10:30pm, advised of cold weather shelter.
Known property offender riding bike without helmet with full backpack at 7am
Known property offender behind business at 11pm
Check on person behind business at 10pm, directed to cold weather shelter
Check on person stumbling while walking uptown, police waited with person until ride came
The 2016 demographics for White Rock indicate that 16.4% of the residents are visible minorities. 18% of street checks from 2018 to present by the White Rock RCMP were with visible minorities. As the White Rock demographic data is four years old and the trend from 2001 to 2016 shows an increase in the percentage of visible minorities (6.5% to 16.4% over 15 years), the 18% of police street checks attributed to visible minorities appears to be consistent with the community demographics. However, approximately 70% of the street checks were conducted with people that, at the time of this review, had an address outside of White Rock. Of this 70%, 69% were residents of Surrey, which has a much greater visible minority population (approximately 58%).
Viewing the street checks in context: out of the 469 street checks over a 30 month period, 27 individuals were South Asian, 26 were Indigenous, 11 were Asian, 9 were Black, 13 were other ethnicity or unknown, and 383 were Caucasian.
Street checks do not account for incidents where a police interaction results in a criminal or other offence.
July 04, 2020 
Pedestrian Struck By Bus - Town Centre 
John B. Vye photo
Yesterday afternoon at 2:20pm White Rock and Surrey RCMP were advised of a transit bus involved in a collision with a pedestrian near the intersection of North Bluff Rd (16th Ave) and Johnston St (152nd St) in White Rock. Witnesses reported the woman was heading north in the sidewalk on Johnston on the east side of the intersection.
The pedestrian was transferred to Peace Arch hospital in serious condition and later last evening passed away.
The intersection was closed so the police could investigate with the assistance of the Integrated Collision Analysis and Reconstruction Service (ICARS).
Washed Out
Throughout the summer FRESHAIR Cinema will be showing movies on their giant 40 foot high inflatable screen in Semiahmoo Park.
Admission at the gate. 
Next Friday MAMA MIA.
Child pornography charges laid against Surrey man 
The Surrey RCMP Internet Child Exploitation Unit (ICE) is informing the public of an investigation which has resulted in charges against a 52-year-old Surrey resident.
Elazar Reshef has been charged with three counts of child pornography related offences.
The investigation began in March 2019, as a result of a notification received from an electronic service provider, which alleged that an account user had child pornography in their possession. Surrey RCMP ICE immediately launched an investigation. Following an extensive review and forensic analysis of the evidence, charges were approved by the BC Protection Services and an information sworn against Elazar Reshef on July 2, 2020.
Elazar Reshef has been in direct contact with children during his work as a teacher in the Delta School District. 
Investigators have reviewed all available evidence and, at this point, no Lower Mainland children have been identified as potential victims. However, anyone who may have information that could assist in this investigation is asked to contact Surrey RCMP ICE investigators at 604-599-0502.
Property sales in the Fraser Valley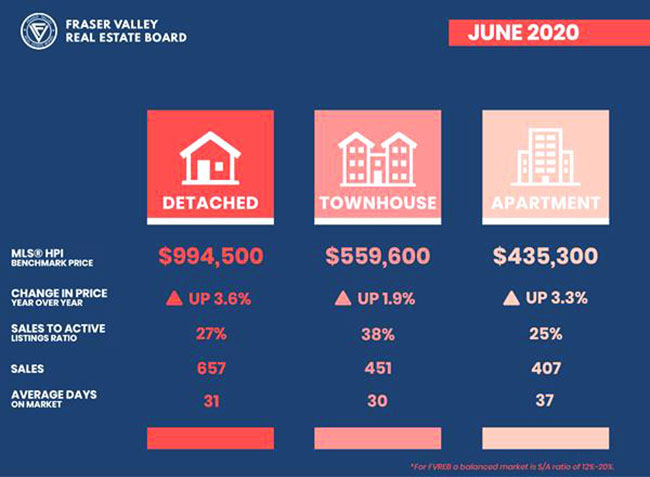 The Fraser Valley real estate market saw a resurgence in activity in June as the industry and consumers continue to successfully adapt to doing business during a pandemic.
The Fraser Valley Real Estate Board (FVREB) processed a total of 1,718 sales on its Multiple Listing Service® (MLS®) in June, an increase of 113.4 per cent compared to sales in May and an increase of 31.5 per cent compared to the 1,306 sales during June of last year. Last month's sales were 6.4 per cent below the ten-year average for June. 
"It's due to a combination of factors. Obviously, very low interest rates, pent-up demand from the previous three months when the market was on hold, and the new CMHC rules that came into effect on July 1st making it harder to qualify for mortgage insurance. Also, consumers have told us that they respect and appreciate the safety protocols and use of technology we've implemented and they're getting more comfortable with the new buying and selling process."
The Fraser Valley Board received 3,456 new listings in June, a 56.6 per cent increase compared to May's intake of 2,207 new listings and a 23.0 per cent increase compared to June of last year. June finished with 7,063 active listings, an increase of 9.4 per cent compared to May's inventory and a decrease of 17.1 per cent year-over-year. 
In June, the average number of days to sell an apartment was 37; 30 for townhomes and 31 for single family detached.
(click here to read the full report)
Residents with fruit trees in their backyards and hobby farms will be happy to hear of a returning program in Surrey and White Rock. Sources Community Resources Society (SOURCES) is back for a second year with the Community Harvest program, also known as Gleaning. 
Gleaning is the harvesting of unwanted or leftover crops for charitable use. In urban areas, it often includes harvesting fruits from residential properties, such as cherries, plums, apples or pears. 
Harvested produce is shared in thirds between the tree owner, the team of volunteers, and the Sources Food Banks or other local charity with a need. "The harvested produce that our Food Bank receives from the Community Harvest Program is a blessing. It allows us to offer healthy, fresh choices to the people who come to us for help," Darrell said. 
SOURCES requests that tree owners contact us well in advance of their fruit coming ripe, as it takes about a week to organize a harvest. Both tree owners and interested volunteers can register online by clicking on "Community Harvest Program" at https://www.sourcesbc.ca/our-services/food-hub. For more information, call 604-596-0973 or email foodhub@sourcesbc.ca. 
July 03, 2020
White Rock RCMP Good News
We are very proud to work alongside an incredible group of White Rock RCMP officers who are dedicated to our community. 


On Thursday (2020-06-18) evening at 1945hrs my family was celebrating an early Father's Day at the White Rock pier. As we reached the end of the pier we saw two RCMP members approach an obvious special needs male who was seated there. After a short exchange both officers offered him a hand, which he took with a smile, and they then escorted him back to shore. They kept holding his hand for the length of the walk back, which elicited numerous smiles and positive comments from the crowd there that night. Both officers displayed commendable patience and compassion for this man and, especially in these trying times with so much vitriol directed at police, showed the public what is at the heart of police work, a desire to help those in need.
Please pass on a "well done" to the members involved.
Cheers, 
Amnon Lichtmann/White Rock Firefighters Charity Association
TNT
The Naked Truth
Don Pitcairn
Some times you just can't bank on your bank.
Video of the Day 
Plants aren't just indoor decorations. Apparently, we can also use them to help bring those outdoor health-boosting qualities indoors by helping to lower any air-borne toxins inside our buildings. These include hazardous particles and potentially toxic gases like carbon monoxide, ozone, and volatile organic compounds from sources such as furniture, paints, carpets, and office equipment.