Canada's FIRST Internet Newspaper
Christy Fox photo
Where You Can Vacation & Be Home The Same Day
TNT The Naked Truth
Don Pitcairn
Don't Fear Colebrook
Colebrook Road..., the name always brings with it a sense of apprehension and dread.



Local News
White Rock Council Today - Land Use & Governance
White Rock council will conduct an Open Council meeting today @ 4:30 p.m. in council chambers @ White Rock city hall.
SPECIAL GOVERNANCE AND LEGISLATION COMMITTEE
will be held in the CITY HALL COUNCIL CHAMBERS located at 15322 Buena Vista Avenue, White Rock, BC,
on Monday September 16, 2019 and will be continued Tuesday September 17, 2019. Both meetings will begin at 4:30 p.m. for the transaction of business as listed below.
ORIENTATION WITH THE CITY SOLICITOR
Note: September 16, 2019 meeting to start at 4:30 p.m. until 6:45 p.m. where the meeting will be
adjourned at that time to September 17, 2019 to start again at 4:30 p.m. until 8:30 p.m. in the City Hall
September 15, 2019
Saddle Sore
Katie and Jewel Keca
Yesterday afternoon sisters KATIE and JEWEL KECA slowly rode their horses down the street in Crescent Beach. The two riders eased their mounts into the Pacific Ocean which marked their cross country trip on horseback.
The sisters began this ride by crossing the country in sections. The final stage brought them through the Rockies this summer, at times riding 12 hours a day.
The sisters ride raised money for the Lions Foundation of Canada Dog Guides. Information about their cause, and their blog full of photos and stories, can be found here.
(click here for more information on the Guide Dog charity)
Fatal Motor Vehicle Collision -152 Street and 56 Avenue (Highway 10)

Last evening (Saturday) at approximately 10:34 pm, Surrey RCMP responded to a collision at the intersection of 152 Street and 56 Avenue (Highway 10). 
Upon arrival members determined that this was a pedestrian struck collision and the pedestrian was pronounced deceased on scene.

Traffic in the area will be affected for an undetermined time as officers continue their investigation. 
The entire intersection of 152 Street and Highway 10 will be shut down in all directions with traffic being diverted prior to the intersection. 
The public are requested to avoid the area until further notice.
The investigation into the collision is in its early stages. Investigators are seeking witnesses who observed the collision, or who observed the vehicle prior to the collision, to contact the Surrey RCMP. Investigators are also seeking any available dash-cam video.

Anyone with more information about this incident, who has not yet spoken to police, is asked to contact Surrey RCMP at 604-599-0502, or Crime Stoppers if you wish to remain anonymous at 1-800-222-TIPS or www.solvecrime.ca.
September 13, 2019
Join your friends and neighbours for the official Pier re-opening Saturday 12 noon.
NOTE; The ceremony will be held next to the actual white rock.
September 12, 2019

Victim of fatal Langley shooting identified


The Integrated Homicide Investigation Team (IHIT) is requesting public assistance to further its investigation into the shooting death of 33-year-old Justin Haevischer. 
On September 10, 2019 shortly after 8 p.m., Justin Haevischer was shot to death outside a McDonald's restaurant at 264 Street and 56 Avenue in Langley, B.C. IHIT and the Langley RCMP continue to complete priority tasks and gather evidence.
Haevischer's older brother Cody was convicted, along with Red Scorpion gangster Matthew Johnston, of first-degree murder and conspiracy in the Oct. 19, 2007 slaughter of six men — including two bystanders — in a Surrey penthouse apartment.
IHIT is releasing Justin Haevischer's name in an effort to determine his activities and who he may have had contact with prior to his death.
"Our investigators continue to push ahead on this investigation and urge any witnesses who have yet to come forward to call IHIT immediately," says Sergeant Frank Jang of IHIT. 
Anyone with information is asked to call the IHIT information line at 1-877-551- IHIT (4448), or by email at ihitinfo@rcmp-grc.gc.ca.
Memorial Park Was Alive With Animals
Christy Fox photo
Never mind just dogs, the White Rock waterfront was home to a wide selection of animals
It was apart of the White Rock MOON FESTIVAL Friday & Saturday.
Bill Hawke photo
September 12, 2019
Surrey Mayor Doug McCallum Says There Will be No Lyft For Uber
In a speech to hundreds of taxi drivers yesterday Surrey Mayor DOUG MCCALLUM reiterated his opposition to ride sharing companies coming to Surrey. MCCALLUM went on to say he would block LYFT and UBER from setting up in Surrey by denying them business licenses.
HOLD ON:
The B.C. Ministry of Transportation said in a statement late Tuesday that the city can't prevent ride-hailing companies from operating.
The ministry acknowledged municipalities can mandate business licenses, but said that only the Passenger Transportation Board can regulate taxis and ride-hailing vehicles, including the control of supply, boundaries and rates.
WR Sea Tours New Boat - WOW!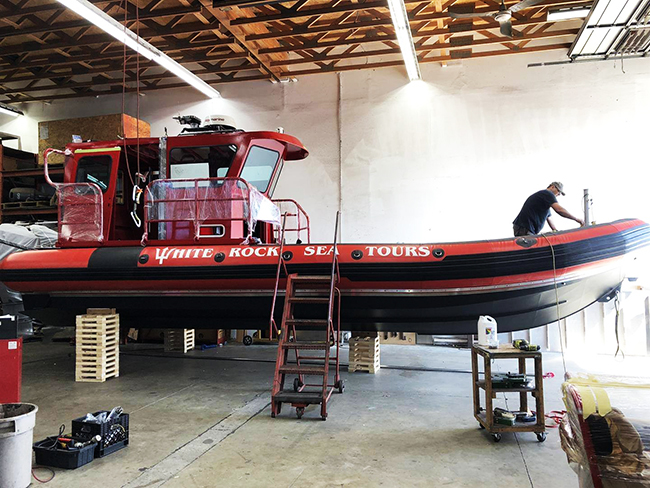 Our new boat Spartan 01 nearing completion.... inside seating for five plus a captain, heated, toilet, outside seating for 12, thermal imaging, twin 300 Mercury verados...
September 09, 2019
I enjoy my job as a visual artist. I get to honour in visual form what happens to us as human beings. I get to try to help capture and preserve within an image feelings that I sense we need to have seared into our memories which also helps us remain connected to ourselves and to our world. On the day Nature broke apart our White Rock Pier, I, too, felt disconnected in a ragged form of brokenness and left scattered in potential insignificance. I needed to record and honour these feelings and then share them with others.
I invite everyone to Make Art an Integral Part of Their Life! It is essential to our human existence. This is my prescription: Give yourselves time this year to enjoy the Peninsula Art Tour on September 28 & 29. You'll feel much better. David. 
www.davidklassenfineart.com.
Sunday Funnies
(click here for more lighthearted life observations)
Recipe(s) of the Week
Dig out the crock[pot we are cooking up Beef Stroganoff today
Yell It Like It Is
Where were you when the world stopped turning.
Chesney's Chestnuts
A wife served some homemade cinnamon rolls for breakfast and waited eagerly for her husband's reaction.
When none was immediately forthcoming, she asked, "If I baked these commercially, how much do you think I could get for one of them?"
Without looking up from his newspaper, he replied, "About ten years."
Thought for the Day
Video of the Day
Take a short break from your day to see a Beluga Whale playing with a seagull.
Community Calendar

(click here for more community events)
Tomorrow In THE SUN
Night Owl

It's Only News If You Read It Today