If you love music -spread the news.
If no one knows - no one goes!

David Chesney
January 13-20, 2020
Music For Big Kids
he Doobie Brothers and T. Rex are among the artists set to be inducted into the 2020 Rock And Roll Hall Of Fame, the Cleveland-based institution announced Wednesday.
The pair of classic rockers will be joined by fellow honorees Depeche Mode, Whitney Houston, Nine Inch Nails and The Notorious B.I.G. at the upcoming 35th annual Induction event this spring.
The six acts were chosen from a field of 16 nominees, with The Doobie Brothers, The Notorious B.I.G., T. Rex and Whitney Houston gaining entry on their first ballot consideration; artist managers Jon Landau (Bruce Springsteen) and Irving Azoff (The Eagles) are also being recognized with the Ahmet Ertegun Award.
The Dave Matthews Band was among those overlooked after winning the Fan Ballot with more than a million votes, alongside fellow top 5 artists Pat Benatar, Soundgarden and Judas Priest.
AROUND TOWN THIS WEEK
- Tuesday†
White Rock Legion HOWLIN TUESDAYS Hosted By Chris Charlton
WEDNESDAY
- Elks Club George Street in uptown White Rock
-Blue Grass Jam Every Wednesday 7:30 p.m. Crescent Beach Legion
THURSDAY
Thursday Night - Open Mic Night and Jam
Sanford Hall (1367 - 128 Street, Surrey BC) in
Kwomais Point Park
Sponsored by Crescent Moon Music Association
We are a gentle gathering of musicians and people who love music in an idyllic setting: Sanford Hall. We welcome solos, duos, bands and other and collaborations.
- Washington Avenue Grill JAMES DEVON
- Music at WEST BEACH BAR & GRILL "Blues by the Beach @ West Beach" all star jam
- ELKS Club George Street uptown White Rock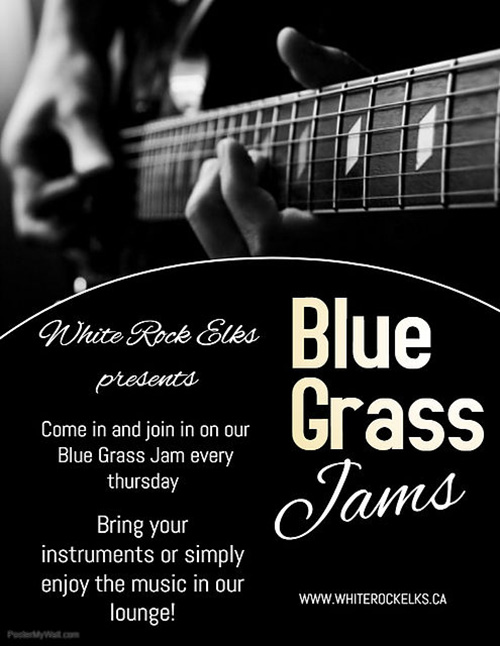 Friday
- Elks / White Rock KARAOKE Every Friday evening 7 p.m. - 11:30
- Washington Avenue Grill live music
- West Beach Bar & Grill live music - local bands.
- Sawbucks Pub
- Club 240/Crescent Beach Legion
- West Beach Bar & Grill
White Rock Legion #8
Fridays at 7:30 and Saturdays at 7:00 until 11:30PM ($5 cover for non-members staying past 6PM)
Sunday Music & Dance this Sunday†from 3:00 till 7:00PM. Public welcome - no cover.
Surrey
Live jazz every Friday night 7-10
SATURDAY
- Washington Avenue Grill live music†live entertainment
- West Beach Bar & Grill live music†live music.
- Sawbuck's Pub live top 40 music
- Knuckles Bar & GRill Marine Drsive
Saturday 7-10 p.m. live blues
SUNDAY
Announcements

(click here to purchase your tickets for BLUE FROG SHOWS)
Friday January 31, 2020
Doors 6:00 pm | Show 7:00 pm - SOLD OUT
Doors 8:45 pm | music 9:15 pm - TICKETS AVAILABLE
Battle Of The Bands! The winning band plays Gone Country #8!
About this Event
TwinsCancerFundraising.com presents!
Gone Country Cancer Fundraiser - Battle of the Bands!
Sunday, February 16th (Family Day Long Weekend).
VENUE: Gabby's Country Cabaret, Doors open 8 pm. Tickets just $19.00 with all proceeds going to fight cancer.
WINNING BAND secures a spot to perform at Gone Country #8! Along with 20 Gone Country tickets for their friends and fans.
Congrats to last years winners The Tanner Olsen Band!
TICKET GIVE-AWAYS | RAFFLE FOR VIP TABLE | $10 GONE COUNTRY MERCH + MORE!
 

Thank you for making THE NIGHT OWL
- the #1 entertainment listings guide in the Fraser Valley